Wallpaper & Custom Decals
Liven up any work space or office with custom creative wall decals or unique printed wallpaper.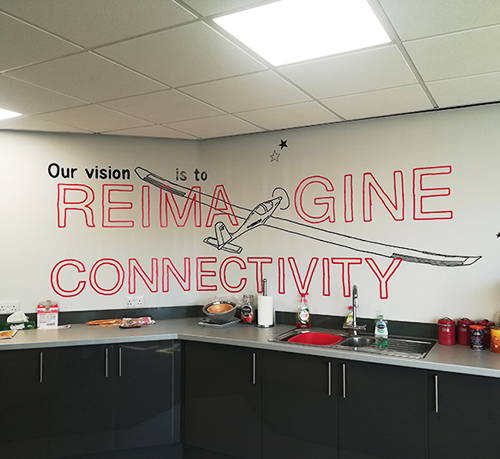 Wall Decals and Custom Wallpaper not only impresses your customers but also improves work force morale. We have been asked for a whole range of different designs over the years, what you decide to have is entirely up to you. You know your business best and you know what values your business upholds. Perhaps you want something creative and colourful to wow important clients. Maybe you want your mission statement on the wall or a word cloud to motivate your employees.
Work area looking a little plain? Another great reason to decorate your space in your own style. All we need are dimensions for your prints or decals and then an idea of what you would like for the design. If you have your own artwork team then please feel free to supply your own designs and files. We can then bring your vision to life, quite literally and decorate your work space in either full colour printed wall paper or in solid vinyl decals.

We advise to wait at least 2 weeks before applying wall decals if your walls have just been painted.
We also advise that your graphics are fit by our professional fitting team to prevent any issues.